Seriously. Without a doubt. It's so sad. Haha. I never thought I'd see the day when
I'd
be obsessed with
make up
. So the upside to working at my favorite store (and having filipino coworkers cause you know, filipinos love to save money) is getting one of my favorite make up lines at discounted price. We're having a promotion for friends and family, 15% off. Employee's get an EXTRA 15% off on top of our already 15% off and since I'm a MVC card holder I get
another
15% off. So I basically got the Flirt (I was trying so hard not to mention the brand cause its a give away where I work lol) Limited Edition eyeshadow thing with 40 shadows for FREE. Yes, FREE. Excited? HELL YEAH. I also bought a blush, some whipped eyeshadow, lipstick and one of their limited edition lipsticks.
This was
yesterday's
haul...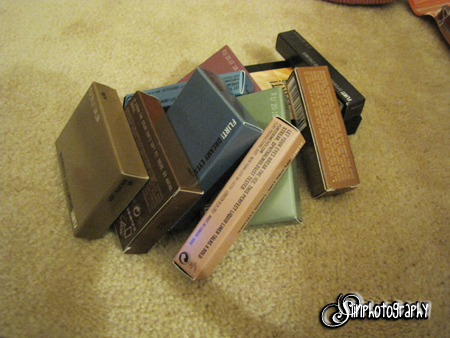 I havent had a chance to take pictures of

today's

haul but I'll probably just edit this entry when I do
.
I'm
still
waiting on my cherryculture.com stuff, dammit! Maybe I should start a makeup blog, then again I'm still kinda learning myself... so maybe that's a bad idea. Bah.
I
so
spend money before I get it. No wonder Martin has me on lock down every chance he gets lmfao.
I passed my entrance exam for the school I'm applying for (yipee!!) so I'm pretty excited about that as well. In six months I can leave the world of fucked up part time jobs behind! FUCKIN FINALLY SHIT lol.
Work has been okay, the job isnt
that
hard. Its just... uhh... well its different from Cash Control (very different in fact) but it still has the you-HAVE-to-get-this-right motive behind it, just not as strong. Its not life or death here, like it was at Six Flags. Cause man, if looks could kill, Reymond musta killed me at least ten to twenty times lol!
Martin has been bent on getting me to
talk about things that bother me
. And as pissed off as I act about it, I'm actually really glad he's really pushing it because heaven knows when I explode my rear view mirror comes off and flying in his direction. I wish I was kidding. I've broken that thing at least four times in the passed year. Once was so bad I
cracked
my windshield. I should take a picture of it some time.
I really need to get off youtube and clean my room. I officially cant see my Wii lol!
Today was a great day =). I'm officially happy (at least in THiS moment I am lol).